INCAM-G
Grass Valley Camera Transmitter
Built into the Grass Valley LDX series HD camera,
the INCAM-G Integral Wireless Camera Transmitter provides
full HD broadcast Quality Encoding at 1080p, 1080i and 720p
plus wireless camera control.
The RF video reception is handled via the Vislink L2174 receiver. It can operate in 2 or 4 antenna input mode. Multi-site networks can be built by connecting L2174 receivers via ASI-packet diversity. All antennas for video and data transmission work via BNC-HD Cable up to 300 m or optional via SMPTE fibre cable up to several Kilometers using our
RFiber System
.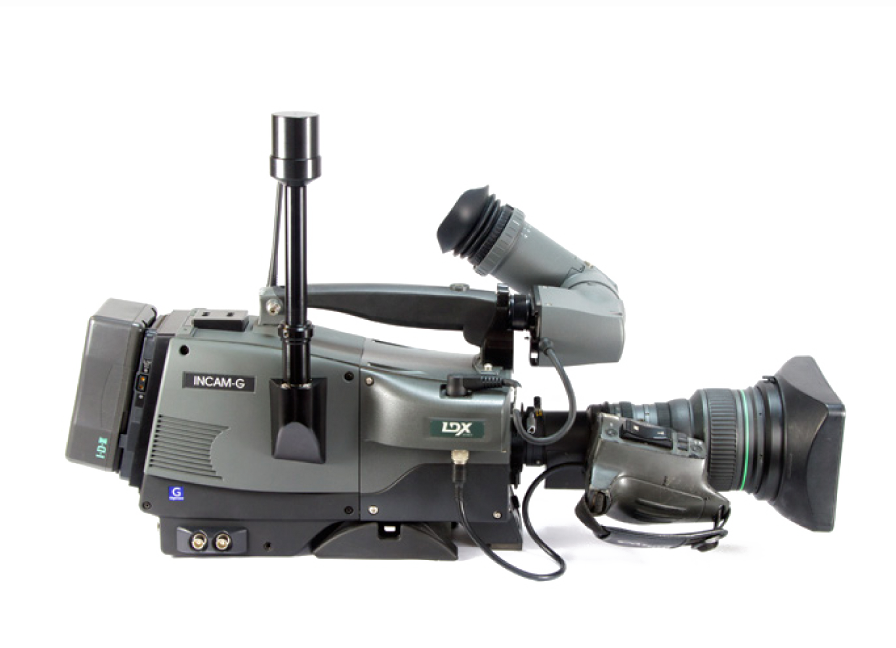 1.95 – 2.7 or 3.3 to 3.7 GHz frequency range
MPEG-4 Decoding
adjustable 10 to 250 mW output power
COFDM DVB-T or LMS-T Modulation up to 20MHz bandwidth
up to 39 Mbit/s Video bandwidth
latency selectable down to less than 1 frame, 20ms
HD SDI 1080i, 1080p, 720p video input
Data frequency range: 450-470 MHz
Red and Green Tally
optional WisyCom wireless Micro integration
optional external antenna extension video/data via SMPTE fibre
MPEG-4 DECODING
We offer you the option to decode your video signal to MPEG-4. This offers you the best video quality worldwide.
LOW LATENCY MODE
Using the world standard VISLINK technology inside, we are able to get a latency time of only 20 ms.
TELEMETRY CONTROL
All related functions of the original manufacturer control are supported.
LOW WEIGHT 
The camera weight including the camera body, IDX standard battery, objective, and complete wireless housing is under 10kg

RANGE
Up to 1 km video range and telemetry control using RF output power 250 mW and 1W for telemetry control.

Grass Valley Impressions
FOR MORE INFORMATION ABOUT OUR GRASS VALLEY SOLUTIONS
YOUR TEAM MEMBER TO CONTACT
Patrick Nussbaum
CEO and wireless specialist
If your have any specialized questions about GV Products and wireless LDK/LDX Systems please contact Patrick Nussbaum.